Rosie Hackett, Dublin rebel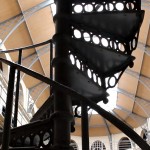 Brought to you by Luxury Hotels Ireland.
Born into working class Dublin in the late nineteenth century, Rosie Hackett worked for Jacob's Biscuits, where she became involved in the campaign for improved working conditions where she organised the strike of women workers and was fired for her activities.
So with bags packed she started working for the union printing office. She then joined the Irish Citizen Army. Along with Constance Markievicz and rebels she joined in occupying Stephen's Green and the Royal College of Surgeons during the 1916 Rising.
Not one to waste her training, Rosie helped with the printing of the first 1916 Proclamation. Later she spent some time in Kilmainham Jail care of the Crown.
In May 2014, a new bridge across the Dublin Liffey was opened in her name.
Check out the short video we made of Kilmainhaim Jail a while back and get a first hand look for the stark conditions at the time. If you're lucky enough you can take the tour and hear tales of imprisoned debtors who were allowed hire substitutes take their place to serve their sentences! Some things never change.
And while in Dublin, check out some great luxury hotels on offer in and around Dublin city centre. The Shelbourne, The Morrisson, The Clarence, The Gresham to name a few.
The post Rosie Hackett, Dublin rebel appeared first on Luxury Hotels Ireland.